World's Best Oysters
Land in Time for Lunch…
Written by Necia Wilden
A dozen chilled oysters and a glass of crisp champagne. What more could you ask for to kick off a spring lunch?
Well, actually, there is one thing. You could ask – you should ask – where those oysters are from. Because, to tweak the old saying, while all fresh Aussie oysters are equal, some are more equal than others.
In his seminal Australian Fish & Seafood Cookbook, co-author and seafood consultant John Susman stops just short of anointing Sydney Rocks the king of them all. As he writes: "This Rock Oyster is without doubt one of the world's great eating oysters. It has a lasting deep, rich & sweet flavour that's unknown in other oysters."
It also has a very misleading name. Confusingly, the species grows as far south as Mallacoota Inlet in Victoria and as far north as Moreton Bay in Queensland.
And just as you wouldn't expect a cool-climate, maritime chardonnay to taste the same as a warmer-climate, landlocked chardonnay, the taste of an oyster from Moreton Bay differs dramatically from an oyster from further south. Oysters, as we're all belatedly starting to realise, reflect regional differences more than any other seafood.
"The best oysters have an amazing ability to reflect their microclimate," says Susman, who is working with the industry to develop an oyster flavour wheel that, in much the same way as a wine flavour wheel, is aimed at helping consumers more easily identify regional characteristics.
Which brings us back to our lunch. Those oysters – as many as you like, opened to order by Sails Noosa chef Paul Leete and his team and served correctly over ice – have an appearance, flavour and texture that's unique to their terroir (or "maroir", the ocean equivalent). Some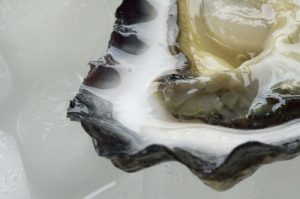 clues: the colour is steely and bluish; the taste is minerally, almost vegetal, intense, clean and briny (you can't miss that ocean slap), with a sweet, lingering aftertaste. The texture is plump and juicy and the size is relatively large.
The industry hopes it won't be too long before more of us can answer this riddle with confidence; in the meantime, your dozen or so oysters naturel are indeed from Moreton Bay, and specifically from Kooringal at the south end of Moreton Island. That makes them an ocean-grown product and therefore quite different in flavour from the estuarine Rock Oyster more common further south (e.g. on the Hawkesbury).
Kooringal Oysters' Jane Clout – who will be hand-picking the oysters for the Sails lunch – says she and her husband David are farming an environmental niche. As a seafood grown at the northernmost reach of the species, in relatively warm waters, production of Moreton Bay oysters is limited by Mother Nature. Accordingly, distribution is restricted to favoured outlets in Queensland, northern NSW and Canberra.
"We are on the verge of not being commercial," says Clout, alluding to the oysters' short season (September-January). For now, restaurants

showcasing Kooringal oysters include Stokehouse Brisbane; Paper Daisy at Halcyon House, Cabarita Beach; and of course, Sails Noosa.
We also have a bit to learn, apparently, about how best to eat these beauties. The popular technique of letting them slip down your throat and swallowing them whole is just a waste, says Clout.
"We encourage people to bite into them and chew, so you get the full spectrum of that marine intensity," she says.
On the question of preparation, Clout agrees with Susman that Moreton Bay Island oysters are best left well alone, in all their naked glory. (There are some who maintain that even a squeeze of lemon on oysters is a mistake.) "Natural, natural, all the way," she says. "Though we do like adding a little Coriole aged red wine vinegar to cut the saltiness.
"And sometimes you can't beat a bit of Tabasco."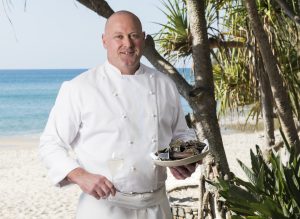 At the Sails lunch, chef Leete will stay on message by offering most of the oysters raw and undressed, with a little shallot vinaigrette on the side. Still, as he points out, the lunch is a one-off, "and there's only so many natural oysters you can eat at one sitting".
So he'll be throwing a few on the barbie – "not to cook them, just to warm them through" – and he's exploring a couple of other variations, too.
"As our diners' tastes have become more sophisticated, we don't get as many requests for Kilpatrick as we used to," he says.
"But I do like a classic Kilpatrick, with crisp pancetta …"
Best sides for natural oysters? A loaf of bread you'll chiefly need; in this case, housemade potato bread with Pepe Saya butter.
Finally, a pro food and wine-matching tip: if you really want to ruin some of the best oysters you will eat anywhere in the world, have your Moreton Bay oysters with an oaky chardonnay. Champagne is good; minerally, steely Chablis, arguably better.
You decide.
"A loaf of bread," the Walrus said,
"Is what we chiefly need:
Pepper and vinegar besides
Are very good indeed–
Now if you're ready, Oysters dear,
We can begin to feed."
Moreton Island oyster event, Saturday Nov 18, midday-3pm, Sails, Noosa. $145 a head includes a glass of NV Billecart-Salmon Brut and all the oysters you can eat.
Bookings via the Sails website – www.sailsnoosa.com.au/bookings