Hats off to the Good Food Guide –  Of the 45 restaurants awarded one or more hats in this year's brisbanetimes.com.au Good Food Guide, three are newcomers – Gerard's Bistro, Bistro One Eleven and Samphire Bites, which each attained one hat. Written by Natascha Mirosch
For the second year, Esquire wins the highest Good Food Guide accolade, Restaurant of the Year. Photo: Jill Dupleix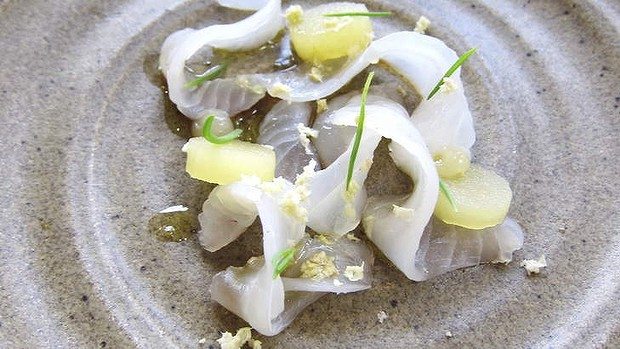 Two established restaurants (Stokehouse and Wasabi) jumped from one to two hats; Tamarind in Cairns also gained a hat, as did Oskars on Burleigh, neighbour RockSalt and Ten Japanese, also on the Gold Coast at Broadbeach. Townsville gained it's very first one-hat restaurant, The Saltcellar.
Five metro restaurants lost their one-hat status this year including 1889 Enoteca, Alchemy, Cinco Bistro, Era Bistro and Reserve, while six restaurants in the regions (Bucci, Far Horizons, Reserve Restaurant Cellar, Songbird's Rainforest Retreat, Verve and Veraison) also dropped from one to no hats.
Once again, Esquire in Brisbane's CBD is the only restaurant in Queensland to achieve the coveted three-hat status.
For the second year, Esquire also took out Restaurant of the Year. It was lauded for an inventive menu that changes daily, polished service and a swish fit-out.
Best New Restaurant went to Gerard's Bistro, where chef Ben Williamson uses experience gained working in the Middle East to combine the flavours of the Maghreb with classic technique.
Chef of the Year was awarded to Alejandro Cancino of Urbane, who was noted as being one of our best "next generation" chefs.
Victoria Restaurant of the Year 
Esquire, BRISBANE
Chefs Ryan Squires and Ben Devlin set themselves a hard task in offering a inventive degustation menu that changes every day, without ever compromising on quality or their renowned attention to detail. Add polished service and a relaxed contemporary fit-out and Esquire is the perfect exemplar of formal dining, deconstructed Queensland-style.
Plumm Wine Glasses Best New Restaurant
Gerard's Bistro, FORTITUDE VALLEY
This sociable bistro mixes fun with a seriously good menu that draws its influences from the Mahgreb. Chef Ben Williamson and his kitchen team are putting out something unique and fresh, the whole experience abetted by a super-cool fit-out and capable floor staff.
Citibank Chef of the Year
Alejandro Cancino, Urbane, BRISBANE
The softly spoken Argentinian has an exemplary CV, having worked with some of the most highly regarded chefs in the world. He's put that experience and natural talent to excellent use with a creative menu that showcases all his culinary influences while never being precious or too clever.
Regional Restaurant of the Year
Wasabi Restaurant and Bar, NOOSA SOUND
The whole clever package, Wasabi has never wavered in its pursuit of excellence. Chef Hajime Horiguchi continues to wow the eyes, stomachs and hearts of a fiercely loyal clientele while owner Danielle Gjestland, a consummate restaurateur, keeps an eye on the floor to ensure the service team perform with equal finesse.
BYO Restaurant of the Year
Rhubarb Rhubarb, WOOLOOWIN
Owner and chef Josh Gamble's menu ranges over Gallic classics produced to suit modern sensibilities. Service is warm, the decor is inviting and wine bottles are graciously received, dealt with appropriately and poured at the table into quality glassware. What more could one ask for?
Silver Service Award
Zahir Meher-Homji, Il Centro, BRISBANE
With the ability to make everyone, from loyal regulars to first-timers feel special, Zahir Meher-Homji is the very embodiment of hospitality. Omnipresent but always discreet, he's spent 16 years heading one of the city's most accomplished and cohesive floor teams with calm authority.
Citibank Professional Excellence Award
Alison Alexander
With an encyclopaedic knowledge of food, and a love of the land and those who grow on it, Alexander is an essential link between producers and chefs and has been instrumental in showcasing Queensland produce to the country, as well as educating local chefs about what's on their doorstep.
Wine List of the Year
Aria, BRISBANE
Aria's comprehensive list has a faultlessly logical layout, great depth of coverage in all categories and cuts Australian ground like no other. There's a recognition given to trends (natural wines and sake), fair price-points and a generous number of wines available by the glass.
Regional Wine List of the Year
The Fishhouse, BURLEIGH HEADS
A commendable list; thoughtful, joyful, full of personality and depth. With 100ml and 150ml by-the-glass pours, as well as the half-bottles, it's not only interesting and far-ranging but accessible to all tastes and budgets.
Highly Commented
Il Centro, BRISBANE
Quirky, with individuality and great personality, there's an unashamedly Italian focus, but also an excellent selection by smaller Australian wineries, as well as some out-there by-the-glass choices.
Regional Highly Commented
Sails, NOOSA HEADS
An impressive and sophisticated list including an excellent representation of region, varietals and vintages at all price-points. It's easy to navigate, with half-bottles as well as a generous by-the-glass selection. There's an inspired selection of chardonnay and red and white Burgundies to please Francophiles too.
Pol Roger Sommelier of the Year
Alan Hunter, E'cco Bistro/Bistro One Eleven, BRISBANE
Uber wine-nerd Hunter's knowledge is extraordinary, his passion and total immersion in the world of wine legendary. He knows how to work a room, asking the right questions and guiding diners to what he thinks they might like best. Hunter also writes a pretty fine wine list.
Best Bar with Food
Cabiria, PADDINGTON
For the second year, Cabiria sets the bar, with food and libations receiving equal billing. The moody, sophisticated space is matched by a cracking wine list and a menu that has something for every appetite, from charcuterie plates to a slow-braised lamb shoulder.
brisbanetimes.com.au Best Food Under $30
Kettle & Tin, PADDINGTON
Kettle and Tin offers all-day and evening dining, an imaginative and on-trend lunch list and a neat little bar menu. A well-constructed cocktail list, sunny-natured staff and walking out the door with change in your pocket make it a winner.
4BC Diners' Choice Award
Coast, HERVEY BAY
Loyal locals know they're onto a good thing with impressive dishes from a kitchen under head chef Nick Street-Brown, whose credentials include a stint at New York's Per Se. A lovely esplanade location and amicable service complete the trifecta.
Vittoria Legend Award
Francis and Marilyn Domenech
What this couple don't know about hospitality would fit on a postage stamp. They've been running their successful business, Baguette, since the '60s, constantly reinventing the restaurant while never forgetting their core value of generous hospitality.
brisbanetimes.com.au Good Food Guide 2013 will be available in Queensland bookshops and on SMHshop.com.au from Tuesday April 16, and in Queensland newsagents from Wednesday April 17, for $19.99.